Consider SD-WAN for your business
As businesses across the world move their operational dependencies from data centres to the Cloud, access directly to the cloud and Internet becomes a primary concern in ensuring continuity. Digital Island's SD-WAN solution provides secure connectivity between sites while providing individual Internet links and access to the cloud, removing the reliance on a central data centre breakout. Adding secondary wired or 4G connections for BCP further increases the resilience of each location.
The network is centrally secured, maintained and managed by the Digital Island engineering team, providing peace of mind and placing network health in the hands of the experts.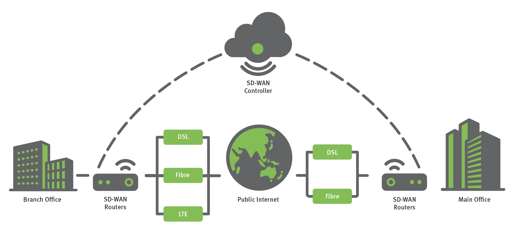 Key Business Benefits
Rapid Deployment – no configuration required on site.

Cloud Portal – real-time visibility of the entire network through a single pane of glass.

Optimise Bandwidth – streamline connectivity to Cloud Services such as Azure and AWS.

Reliability – Intelligent routing and failover keeps businesses up and running.

Reporting – application layer reporting for enhanced network troubleshooting.
Standard Features
Application awareness – blocks unwanted apps and reduces security risks.
Stateful firewalling – blocks malicious intrusion and improves overall security.
Branch resiliency – no reliance upon one shared Internet connection or firewall, removing the risk of a single point of failure.