You'll drive better customer experiences, increase agent efficiency, and reduce costs and risk with Amazon Connect and Digital Island Managed Services.
Amazon Connect is an easy-to-use omnichannel cloud contact centre, powered by AWS. Developed by Amazon to deliver a superior customer experience for their own retail business, Amazon Connect is now used by thousands of companies with anything from 10 to tens of thousands of agents to serve millions of customers daily.

With Amazon Connect you'll save time and money from the very first day. Expect call volumes to reduce by up to 24%, a 15% increase in call resolution time, new staff to be up and running on average a week sooner, and a saving of up to 50% on your legacy system.
And when combined with Digital Island managed services, you not only enjoy all the advantages and savings of a truly seamless and efficient contact centre solution, but do so without the burden of supporting it.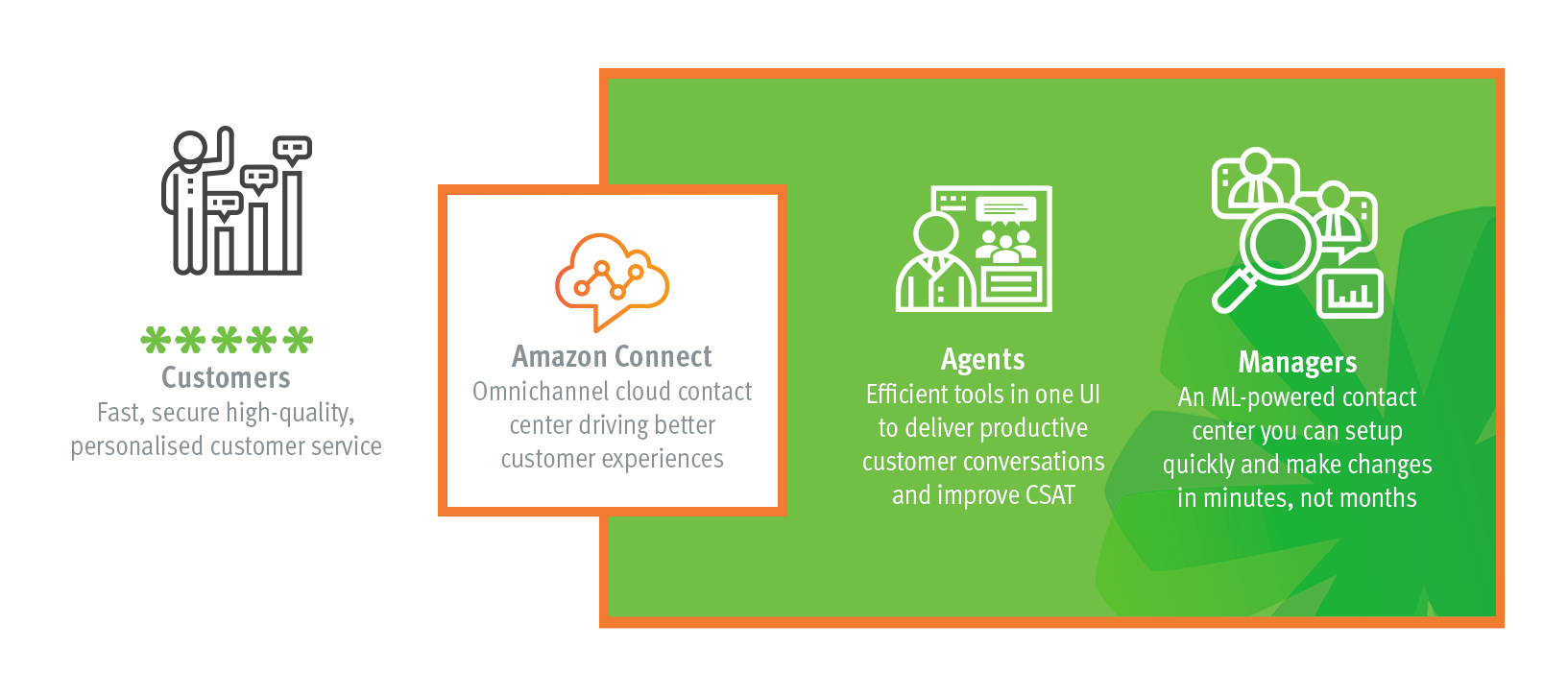 Capabilities you'll love
+ Deliver a seamless omnichannel customer experience
By unifying voice, chat, and task management, Amazon Connect provides a seamless omnichannel experience for your customers. Features include high-quality audio capabilities, natural interactive voice response (IVR), and interactive chatbots that operate seamlessly with web and mobile chat contact flows.

Got a customer conversation (email, ticket, or claim) that requires follow up? Amazon Connect Tasks creates task lists without requiring your agent to move from one application to another. + Improve customer interactions with unified data

Amazon Connect Customer Profiles unifies your customers' information from all applications into a single place. Consolidated profiles are delivered to your agent at the beginning of a customer interaction so that they can provide a more personalised and productive experience.

+ Enhance performance with self-service management, including dashboards
With skills-based contact routing, queuing, analytics, and management tools in a single intuitive UI, Amazon Connect makes managing and enhancing the performance of your contact centre easy.

You can improve the customer experience, increase performance, and lower costs by creating re-usable, dynamic, personal, and automated customer experiences across every channel you use – without coding. Learn from real-time and historical contact centre analytics, and utilise the data provided on visual dashboards to improve productivity and efficiency, reduce average queue abandonment, or call handling times.

+ Embrace in-built Artificial Intelligence (AI) and Machine Learning (ML)
Naturally, Amazon Connect is AI and ML-enabled. As well as allowing you to automate customer interactions, features like Amazon Voice ID authenticate your callers in real-time to make voice interactions faster and more secure. And customers can engage with you more quickly and easily with natural interactive voice response (IVR) and interactive chatbots.

In turn, you can understand your customers better and in real-time with full speech-to-text search, sentiment, trend analysis, and alerts through Contact Lens for Amazon Connect. You can identify crucial company and product feedback, track agent compliance with your contact centre standards, train agents, and replicate successful customer interactions. Supervisors can troubleshoot customer issues with a fast full-text search on all transcripts, and receive alerts during live customer calls so they can provide proactive on-the-spot assistance.



+ Automate agent support
Amazon Connect Wisdom uses ML to significantly speed up your agents' capabilities to find answers to customer questions. Wisdom lets agents search across connected repositories using key phrases and questions – exactly as the customer would ask them – for faster results. Using built-in connectors, Wisdom also enables you to join the dots between the knowledge you hold in Amazon Connect and third-party applications like Salesforce and ServiceNow, other internal wikis, FAQ stores, and file shares. Using real-time speech analytics, Wisdom can also detect customer issues during a call and provide recommendations and answers to your agents.

+ Make task management easy
Gone are the days of agents tracking their tasks and customer follow-up items manually, and often across multiple systems like CRM, e-commerce, and ticketing. With Amazon Connect Tasks, it's fast and easy to prioritise, assign, and track all agent tasks from initiation to completion.

Tasks allows your agents to create and complete tasks in the same UI they take calls and chats, so customer issues are resolved quickly and efficiently.

+ Enjoy optimum reliability and performance with Managed Services
Digital Island Managed Services offers Silver, Gold and Platinum SLA plans to meet your business needs. Regardless of your plan, you receive priority support for Amazon Connect via our dedicated service desk, backed up with real-time reporting and always-on solution monitoring. So you'll always be able to accurately report on the status and performance of your contact centre.
Benefits you can count on:
+ A superior customer, agent, and manager experience
While the customer experience is the litmus test of a great contact centre, it requires your agents to have the right information and tools at hand to solve issues quickly and efficiently. Amazon Connect supports a customer-centric approach, so every interaction – on any channel – is fast, personalised, and seamless. As a result, your agents have more productive conversations with higher resolution rates, and your managers can proactively improve workflows and call allocations within minutes.

+ Say hello to simplicity
Say goodbye to lengthy deployments. Amazon Connect is simple to set up and use (think days, not months), and you can customise it without coding. If you're used to waiting patiently to roll out development initiatives, it's time to get used to creating voice and chat contact flows and agent tasks within minutes.

+ Experience an ROI from Day One
It's adios to the minimum monthly fees, set-in-stone long-term commitments, and upfront licensing of legacy contact centres. With Amazon Connect's consumption model, you only pay for what you use (plus any telephony/messaging costs), saving up to 50% on traditional contact centre costs.



+ Eliminate risk, improve reliability
Relying on internal resources for support not only increases your operational costs, but leaves you vulnerable to availability and capability. When you deploy Amazon Connect combined with Digital Island's Managed Services, you'll enjoy reduced overheads, minimal downtime, and speedy issue resolution. And not just from 9-5 with an hour for lunch, but 24 hours a day, every day of the year.