Want to integrate your phone system with Salesforce.com?
Unleashing the Power of Telepo CRM Connector Integration
Connects the Call to your Salesforce instantly – no fuss
More and more businesses are employing smart CRM integration tools and unleashing the power of information automation to:
enhance their customer's end-to-end business experience;
increase employee productivity; and
improve cost efficiencies in their business.
Digital Island's Salesforce CRM Connector for Telepo automatically links incoming calls to customer information enabling knowledgeable personalised interactions, quicker issue resolution and more meaningful reporting to continually improve customer journeys.
Benefits
Improve CX - By personalising responses, improving speed of response, prioritising VIP calls.

Improve Efficiency - CRM system integration displays customer contact details and prior call history before answering the call.

Increase Productivity – Save time by adding Case Notes and reason Codes directly from the CRM Connector.

Insightful Reporting – Meaningful customer activity reports that help businesses make knowledgeable decisions.

All-in-one Access – Screen Pop, click to dial, Call history, Case Notes and Reason Codes accessed from a single pane of glass.

Operational improvement - Analyse and review operational resource workloads and customer trends.
Screen Pop
User friendly CRM Connector window that links the Calling Line ID (CLI) with an incoming call to pop-up a Salesforce record complete with the customer's information from your Salesforce database.
Link Salesforce Case or an Opportunity
Lookup Contacts
Add Reason Codes
Add Case Notes
Call History
Click-to-dial
Single Click-To-Dial function allows Salesforce users to dial out of Salesforce Contacts.
Simply search the contact name or click on the contact shown in the Salesforce Case and Telepo Cloud PBX generates a call for you.
Reason Codes and Notes
Each call can be categorised with a Reason Code to help the business identify the reasons for the customers interaction. These can provide valuable insight into customers' journeys and improve various customer interactions.
Add notes on the fly and remove manual duplication of entering the same information in different systems. The more data you have and can convert into meaningful information, the more information you have for making better decisions.
How it works
Digital Islands Salesforce CRM Connector allows connectivity between Telepo users and Salesforce CRM by referencing the Caller ID of calls against the CRM database.
This allows Telepo users to have real time screen pop-ups that can be referenced against the CRM database. The screen pop-up includes both the details of their caller and direct links to the relative customer and account pages within the CRM. To extend this functionality, the individual call can be manually linked to either an Opportunity or Case within.
Incoming and Outgoing Connector pop-ups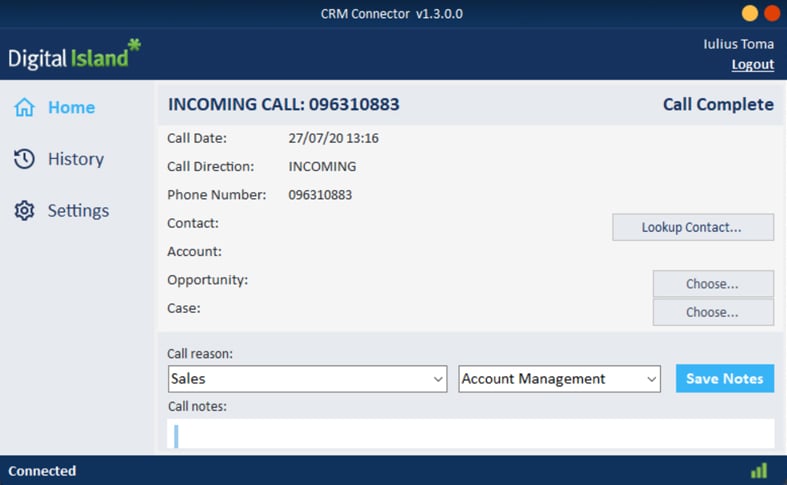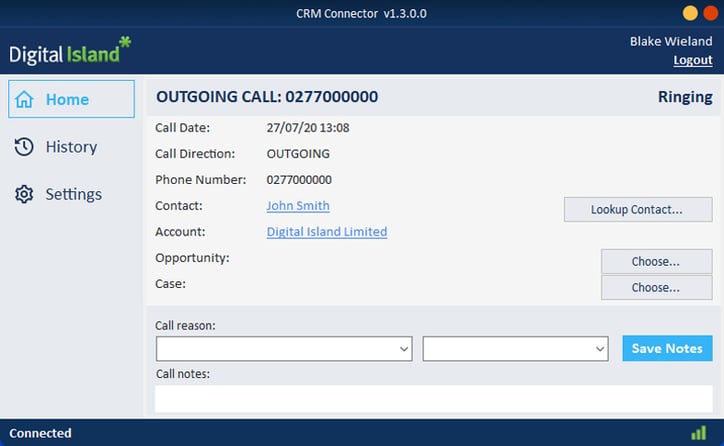 Salesforce reporting
Using the native Salesforce reporting you can generate meaningful reports to improve efficiency and deliver superior customer outcomes.
Reporting highlights
Key reason and note codes to identify common trends
Tracking call records across customers and contacts
Understanding busy call times for improved resource planning
Customise reports to suit your business needs