Planning your digital Contact Centre
Strategy
How do your customers engage with your business?
Are you missing out on opportunities?
As Contact Centres have evolved over decades from switchboards to Call Centres and now, to smart Artificial Intelligence (AI) enabled Omnichannel Contact Centres in the cloud, these complex ecosystems today require advanced data-driven strategies to succeed.
Digital technology is opening up new possibilities for leveraging value from your contact
centre. This paper is an introduction to developing your digital contact centre strategy.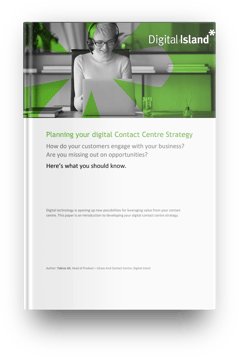 In this white paper we explain:
What it takes to meet customer experience benchmarks - it's incredibly important to understand modern customer touchpoints in order to deliver consistent, value-based experiences across all channels.
The impact of external drivers on ever-evolving, complex Contact Centres - find out the radical shifts Contact Centres are experiencing and what impacts these will have on your organisation.
What Cloud Contact Centre models are available to choose from - examine your options for moving to a cloud based environment and find what suits your organisation.
The most promising value-add advancements in Contact Centre technology - the key tools and technology your Contact Centre needs to provide a great customer experience and remain competitive.
How to leverage technology to benefit your own people - analytics are not restricted to customer behaviours only, it's equally important in retaining your human capital - the frontline Contact Centre agent. Consider how to approach working from home (WFH) and the productivity benefits.
What are the next steps your organisation should be taking - read the 12 factors to consider as you develop your Telecommunications and Contact Centre strategy.
Complete the form to access your copy of the Contact Centre Strategy white paper now.